TalkTalk Broadband & Fibre
With TalkTalk broadband you get uncapped downloads for a competitive price, and you can choose Fibre for a superfast home connection.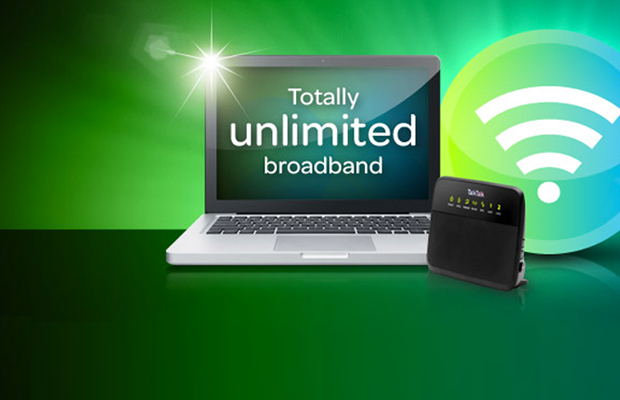 TalkTalk Broadband
TalkTalk offers a popular, low-price broadband service in the UK. You can get unlimited downloads, which means there is no cap placed on your browsing. You can stream movies and download music without worrying about going over a pre-agreed limit of usage. You are subject to fair use, but this is often the case with broadband in order to make speeds fairer.
You can get quick download speeds as well; this always varies depending on your location, but TalkTalk does compete confidently with other UK providers for broadband speed. There is also the option of superfast broadband, using the fibre-optic network, and this gives you even quicker broadband speeds in your home.
TalkTalk Fast Broadband
TalkTalk Fast Broadband is the standard home broadband deal from TalkTalk that gives you unlimited monthly usage, with minimum download speeds of 17Mb on an ADSL connection.
This easy, streamlined option does not include calls, but you have the option of adding unlimited UK mobile and landline calls for a small monthly fee.
Fast Broadband from TalkTalk is offered to customers on an 18-month contract, and the prices all include line rental.
TalkTalk Faster Fibre Broadband
Fibre-optic broadband delivers much faster broadband speeds, and with TalkTalk Faster Fibre Broadband you can get a great monthly price for this quicker service. You can choose between 38Mb and 76Mb maximum download speed, and the usage is uncapped throughout each month.
Faster Fibre Broadband is also offered on an 18-month contract, with line rental included in the price.
TalkTalk TV
TalkTalk TV can be taken alongside a broadband or fibre deal, and you get Freeview channels, as well as the option to add premium content like Sky Cinema and Sky Sports. You can access free catch-up content from the popular on demand players like iPlayer, and rent from a library of great film titles with TalkTalk TV Store. TV Plus also lets you pause, rewind and record live TV so you have more control over what you watch, and when you watch it.
TalkTalk Deals
Choosing broadband, calls and TV Plus will make for a great deal, giving you a complete home service from one provider at a low monthly cost. TalkTalk's prices are extremely competitive, and with online offers and promotions you can get impressive value from your TalkTalk deal.
---