BT TV & Broadband
BT offers a fast, very reliable broadband service in both ADSL and superfast fibre deals which can be bundled with calls and BT TV.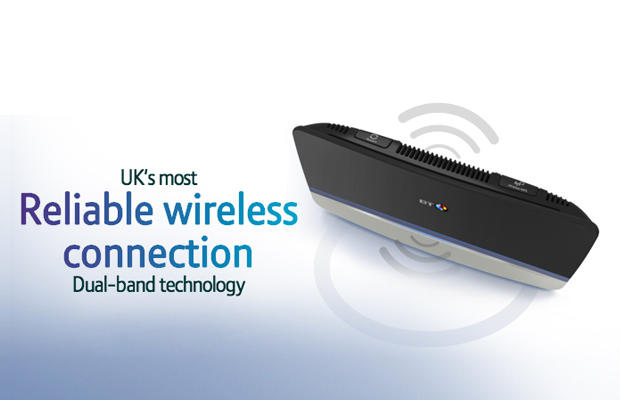 What is BT Broadband?
Customers can choose from a selection of different broadband options which start at 10Mb basic ADSL and go all the way up to 67Mb superfast fibre.
All of BT's broadband deals come with unlimited monthly usage, a Stay Fast guarantee of £20, a range of security features and the powerful BT Smart Hub.
BT Superfast Fibre broadband speeds
BT broadband customers can choose from Fibre Essential, Fibre 1 and Fibre 2.
With an average download speed of 36Mbps, Fibre Essential is ideal for those with average browsing habits who need a connection on which to stream, send emails, shop and scroll through social media.
Those who live in busier households will want to opt for either Fibre 1 or Fibre 2 which offer average download speeds of 50Mbps and 67Mbps respectively. These are capable of supporting a large number of devices as everybody is online streaming, gaming and downloading simultaneously.
BT Full Fibre
Even quicker than BT Superfast Fibre is their top-tier Full Fibre service which boasts blisteringly fast download speeds of up to 900Mbps.
Even the busiest of households will be able to enjoy a fantastically smooth connection for seamless video-calling, 4K streaming, long online gaming sessions and huge downloads.
Advanced security features
BT has more online security features than any other big provider so you and your family can enjoy browsing the web safely.
There's a team of 3,000 specialists working 24 hours a day to protect the network from cyber attacks along with BT web protect and BT virus protect. This includes a pop up blocker, protection against spyware, a personal firewall, spam blocker and anti-virus software.
Smart Hub
The BT Smart Hub comes with your BT Broadband subscription and it operates as your internet router in the home. It offers a strong and reliable wireless signal, so you can run a good wireless network in the house, and it is energy efficient thanks to the auto-low-power mode activated when there is no web activity.
---