Virgin V6 Box & TiVo
The Virgin V6 box is powered by TiVo and delivers an enhanced viewing experience, giving you even more control over what and how you watch.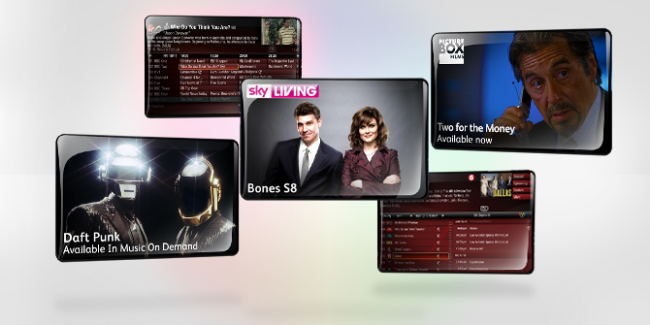 Virgin Media V6 box
All of Virgin Media's TV deals come with the Virgin Media V6 Box, a sleek, powerful piece of technology with a massive 1TB of storage that's packed with a huge array of convenient and innovative features.
You can access different online apps like Facebook, YouTube and BBC iPlayer, rewind and pause live TV and enjoy all manner of 4K Ultra HD content.
Its list of features includes:
4K Ultra HD capabilities – Providing you've already got a 4K Ultra HD TV, Virgin's V6 box allows you to enjoy stunning 4K Ultra HD content. Currently, the only way to experience 4K through Virgin Media is via third-party apps like Netflix, Amazon Prime Video and YouTube.
Multi-programme storage – Record up to a staggering six shows at once while you watch an existing recording or something from a third-party app. If you'd like even more space, chaining your V6 boxes together acts to expand your recording capabilities by an extra six slots each time.
TV Anywhere – Download the TV Anywhere app to any one of your smart devices and, providing you're connected to wi-fi, stream up to 100 different live channels, your own recordings and an excellent variety of thrilling on-demand content.
Multi-room viewing – Connecting several V6 boxes up to your home network allows you to enjoy both live and on-demand content along with any recordings you've made anywhere in your home. You've also got the ability to stop your program in one room and then rewind or pick it straight back up in another.
Series Link+ - The upgraded version of series link technology will not only automatically record all episodes of your favourite show but will also collate all existing episodes from Virgin's extensive on-demand library and third-party apps like Netflix into one folder.
Suggestions – Virgin Media gives you the option to rate different shows with a green Thumbs Ups or a red Thumbs Down which gives your V6 box a very accurate idea of the kinds of shows you like. The collected information is then used to make suggestions about other programmes you haven't seen but might actually enjoy.
Virgin Media and TiVo
Depending on when you bought your Virgin TV subscription, you might have a 500GB TiVo box instead. While it doesn't posses quite as much memory as the V6 box, it's still a very impressive piece of technology which is able to provide users with a brilliantly fluid, tailored experience.
Along with its glorious HD capabilities, huge on-demand library and ability to download different apps like Facebook, YouTube, BBC iPlayer and eBay, the TiVo box comes with many of the same excellent features as the V6 including:
The ability to record three programs at once while you watch an existing recording or something from a third-party app, TV Anywhere, TiVo's multi-room feature allowing you to enjoy all of your favourite films, TV shows and recordings anywhere in your home, Series Link+ and Suggestions.
How much do the V6 box and TiVo cost?
One V6 box comes automatically included with all of Virgin's Big, Bigger and Ultimate Oomph bundles so new customers won't have to pay anything extra to receive one.
Existing Virgin Media customers will have to pay a fee in order to upgrade to the V6 box.
New customers who opt for the Ultimate Oomph bundle will get a second V6 TV box included for free but will need to pay a fee for any others after that.
---